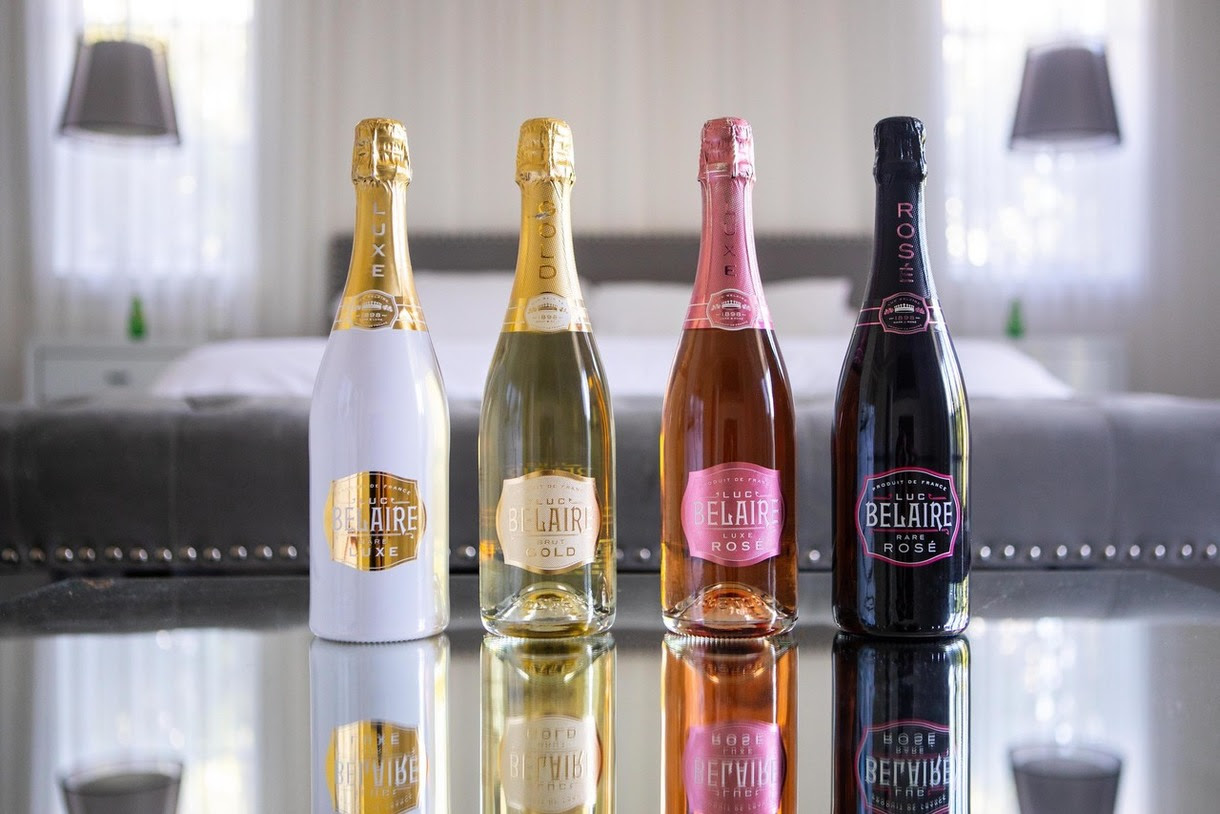 Luc Belaire is proud to present BELAIRE LUXE ROSÉ, the fourth cuvée in its smash-hit portfolio, launching with rap artist Young Thug as the official brand ambassador. This captivating new creation joins the brand's signature Belaire Rosé, exquisite Belaire Gold, and wildly popular Belaire Luxe, and reinforces Belaire's meteoric rise in the wine world, earning the brand its claim as the world's fastest-growing French sparkling wine.
Belaire's impressive trajectory has been galvanized by its affinity with globally recognized music stars like Rick Ross, DJ Khaled, Steve Aoki, Post Malone, Dave East, A Boogie Wit Da Hoodie, and G Herbo, among others. They are part of an ambassador network of more than 200 influential personalities that support Belaire around the world. Each ambassador - whether a top recording artist, DJ, producer or social media influencer - works with Belaire as a collaborator, with the iconic bubbly brand supporting the ambassador. Today, Belaire is excited to welcome trend-setting rapper Young Thug to its family as the official brand ambassador for BELAIRE LUXE ROSÉ.
Luc Belaire's new cuvée, Luxe Rosé
Brett Berish, CEO of Sovereign Brands, owners of Luc Belaire, states, "Belaire Luxe Rosé is an exciting new addition to our family of wines, and we are looking forward to introducing it to our fans. I'm beyond excited to welcome Young Thug to our Belaire family, with the perfect timing around our release of our new cuvée. We're big fans, and we feel that his distinctive style in music and fashion is sure to ignite interest in Luxe Rosé."
BELAIRE LUXE ROSÉ is a stunning wine that perfectly complements the existing Belaire range, combining the fresh fruit aromas of the best-selling Belaire Rosé with the richness of Belaire Luxe and the crystal-clear bottle and embossed foil labels of Belaire Gold. Made at the brand's award-winning winery in Provence, Belaire Luxe Rosé is crafted from a blend of Syrah, Grenache and Cinsault grapes with a dosage of oak-aged Syrah for an exquisite deep pink color. Fresh strawberry and raspberry aromas, berry flavors and a slight touch of wood on the palate give this delectable wine the perfect finish. Belaire Luxe Rosé epitomizes the qualities that have made Belaire's wines so popular: classic taste, superb drinkability, and striking, stylish packaging.
Of his new role, Young Thug states, "I'm a trendsetter, I redefine the rules and I challenge the status quo. That's what matters to me. Belaire is a brand which speaks to that outlook and that aesthetic. I tasted the Luxe Rosé and I was blown away - it really has it all, the taste and the style. The opportunity to be part of the Belaire family came up and I jumped at it! I'm looking forward to redefining the landscape together."
Young Thug is represented by United Talent Agency, who brokered the deal on his behalf. This continues to be Young Thug's breakout year, which includes his Young Stoner Life compilation project Slime Language, recently released to critical acclaim, as well as his four nominations at the 2018 MTV Video Music Awards, where his mega crossover hit "Havana" with Camila Cabello is recognized for "Video of the Year," "Song of the Year," "Best Pop Song," and "Best Choreography."
Luxe Rosé is an extraordinary wine from grape to glass, and like its new champion Young Thug, is tailor-made to please crowds, anytime of year. The cuvée will be rolling out to select retailers, restaurants and nightclubs around the world in August..
To celebrate the partnership, Young Thug stars in a commercial for LUXE ROSÉ with guest appearances from Rick Ross and DJ Khaled
Watch below..
...................................................................................................................................................................
About Luc Belaire
Luc Belaire is a premium brand produced in France - the hallmark of quality in the world of fine wines. Our 5th and 6th generation father-and-son winemakers oversee production of each bottle of Belaire at their maison in Montagny-les-Beaune, established in 1898. The line includes Belaire Gold, made in Burgundy from a blend of Chardonnay and Pinot Noir along with a cane sugar dosage, alongside Belaire's top-selling cuvée Belaire Rosé, a unique sparkling Rosé wine from the south of France crafted from a blend of Grenache, Cinsault and Syrah grapes – the three favorite Rosé grapes of the region – and Belaire Luxe, an elegant 'blanc de blancs' made exclusively from Chardonnay with a special dosage made from prized Chablis grapes in Burgundy. The newest addition to the range is Belaire Luxe Rosé, made at Belaire's estate in Provence from a classic blend of rosé varietals and a unique addition of oak-aged Syrah. Finally, Belaire's Fantôme (French for phantom) range houses each of its cuvées in a luminescent bottle which lights up at the touch of the button.
About Sovereign Brands
Sovereign Brands is a family-owned, international wine & spirits company headquartered in New York. The company is owned and operated by the Berish family and partners with first-class producers from the world's most iconic wine and spirit regions to develop superior brands. Sovereign has a portfolio of successful brands including Luc Belaire, a smash-hit line of French sparkling wines, which has earned global acclaim for its exquisite taste and striking packages, and is available in more than 100 countries around the world. The company's portfolio also includes Bumbu, a craft rum brand from Barbados that ranks among the world's most critically acclaimed rums, Cloud Chaser, a classic French Côtes de Provence Rosé, and Skeleton Vineyards, a range of accessible wines from Argentina and Austria.
About Young Thug
Young Thug is known for his unique style and visuals. Among many highlights, Thug is touring nationally with J. Cole on his K.O.D. Tour. Recently, Thug released his critically-acclaimed compilation project Slime Language with his Young Stoner Life Records roster. The four-time MTV VMA nominee has performed on The Tonight Show Starring Jimmy Fallon and iHeart Media Awards. Aside from his global smash hit "Havana" with Camila Cabello, he recently starred in an Internet-breaking Adidas campaign with Kendall Jenner.