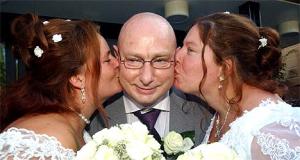 Eritrea has now mandated its men to take at least two or more wives due to a shortage of men.
The have been asked by the government to marry more than one wife or risk being jailed for life.
This is contained in a statement in Arabic by the Grand Mufti (the highest official of religious law in the country)
In the statement, Eritrea called for all men in the country to marry at least two wives and the government assured the men that it would pay for the marriage ceremonies and houses.
This Mandatory polygamy by men in Eritrea is being received with a lot of mixed feelings
In the statement written in Arabic assures of government support to the polygamous marriages.
The statement reportedly translates thus, "Based on the law of God in polygamy, and given the circumstances in which the country is experiencing in terms of men shortage, the Eritrean department of Religious Affairs has decided on the following ."
First that every man shall marry at least two women and the man who refuses to do so shall be subjected to life imprisonment with hard labour.
"The woman who tries to prevent her husband from marrying another wife shall be punished to life imprisonment," alleges the activists in their translation.
The May 1998 to June 2000 Eritrean/Ethiopian war saw 150,000 soldiers killed from either sides but bigger impact on male population in the Eritrea nation who were then just 4 million people in total.
The statement assures of government support to the polygamous marriages.
A single lady praised their President, saying "He is so considerate of women! That's good of him." Eeeeeeyahhhh!
How more bizarre can it get?! the world is sure coming to an end if this report is true when you begin to force men to marry more than one woman or face imprisonment .Just wait and Imagine that law being passed in Nigeria??!! No NO..Pause..Oya take it in again? this law passed in NAIJA! lmaoooo.. with no law sef some guys and have main wife ,side wife,side chick,main squeeze,and girls for each day of the week!
UPDATE;
Eritrea forced polygamy Story has now been confirmed to be False and a Hoax..