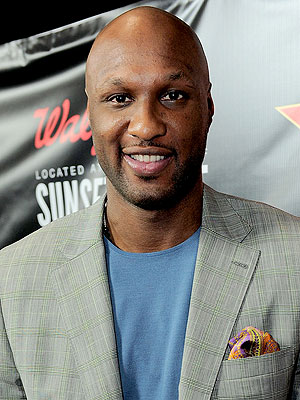 Its been a hellish 4 days for friends fans and families of basketball player Lamar Odom after he was found unconscious in a brothel but he seems just maybe the big man may be on his way to pulling through!
Multiple media sites have reported that the 6ft plus athlete has had his heart responding and opened his eyes and even squeezed on Kim Kardashian hand when the Kardashian family were there by his side.
The good news now is that Doctors ran a test to see if Lamar could breathe on his own and he did!
"Lamar Odom was able to breathe on his own, with the help of a mask rather than a ventilator ... TMZ has learned.
Our sources say doctors are trying to get Lamar functioning on his own, so a few minutes before this story was posted, they took him off the ventilator and put a breathing mask on Odom.
We're told doctors are putting him back on the ventilator and used the mask as a test, and they plan on going back and forth to see if Lamar would be able to breath without heavy life support.
It's another hopeful sign. As we reported, tests Friday morning revealed Lamar's heart has shown some improvement. That said, our sources were quick to add Lamar is not out of the woods by any means, and it's unclear if he'll be able to sustain breathing on his own."
Lamar has also reportedly opened his eyes and recognised his ex wife Khloe Kardashian whom he greeted by saying Hey baby!
It might still be a long road to recovery but hey! Miracles do happen dont they?!

We pray he pulls through and gets his life back on track!#Happy #MoreprayersforLamar!