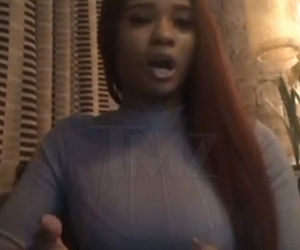 Joycelyn Savage
Earlier in the week an Expose was published that Music veteran R.Kelly was keeping young girls in an abusive sexual cult where he controls everything they do down to what and how they eat and even what they wear. Incase you missed it see details Here!
Joycelyn Savage is one of the girls reportedly being held captive by R.Kelly,Allegations which he has since denied.
Jocelyn's Parents are however insistent that she is being held against her will
as she's cut off all communication with them.
Watch their press conference below..
Joycelyn in turn spoke to TMZ saying she was fine,not being held against her will and that she cut off communication with her folks.
She however wouldn't address questions about where she is now, or exactly what her relationship is with R.Kelly.

Watch below..
Fans have termed this video as one done under duress due to the instability of her voice and her shaky mannerisms.
Eagle eyed viewers also sighted hands(from the 1.50 mark hands reflect on her top) signalling to her to stop speaking and not answer the question of if there were other girls living with her and the singer or reveal her location, sparking more controversial tales that she was tutored and directed on what to say for this interview.
Joycelyn's father, Timothy, believes his daughter now 21 who met the singer at 17 is experiencing Stockholm Syndrome.