Several people have reportedly been killed after explosions rang out at the end of an Ariana Grande gig in Manchester Arena.
Video footage showed people fleeing in tears from the venue after there were bangs when the concert finished
Bloodied concertgoers were pictured being helped by emergency services outside the gig as
police were seen patrolling the arena.
Evie Brewster, who attended the concert, told MailOnline: 'Ariana Grange had just finished her last song and left the stage when a huge explosion sounded.
'Suddenly everybody started screaming and running for the exit.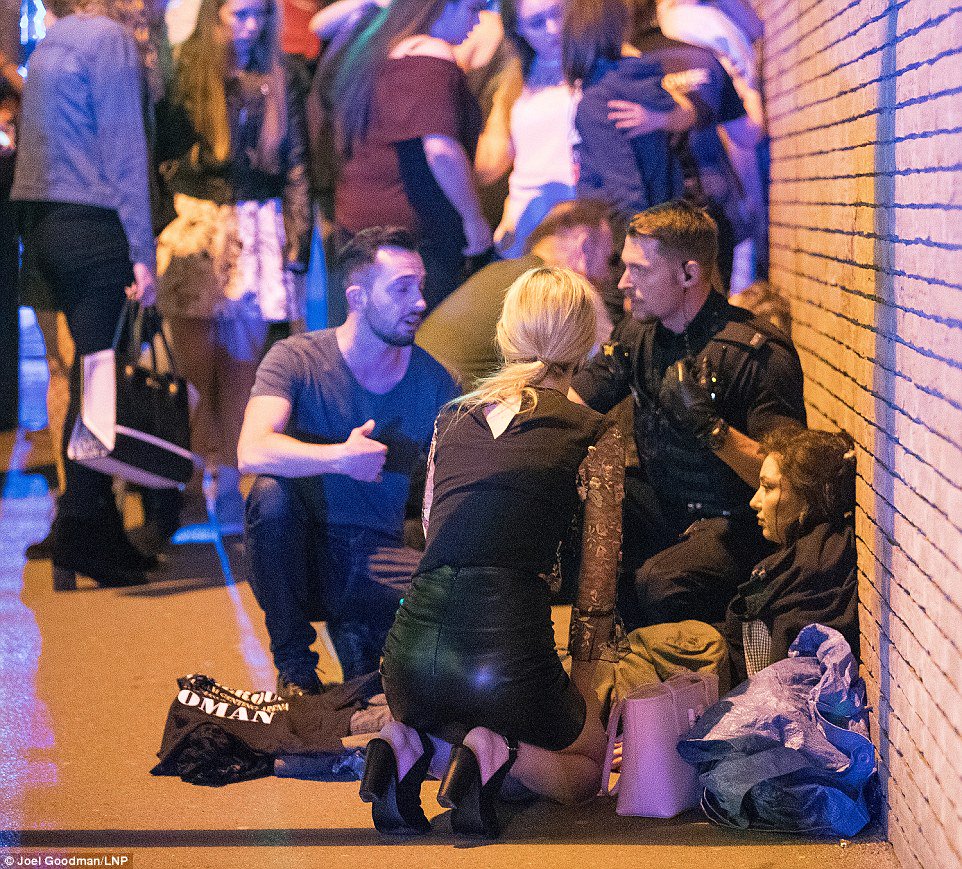 'We could hear the police and ambulance sirens. It was terrifying.
'There were thousands of people trying to get out at once. They were all screaming and crying. The whole place smelt smokey and burnt.
Jonathan Yates, 24, from the Wirral, who attended the gig, told MailOnline: 'The concert had finished and the lights came on almost instantly. There was a bang, a weird bang. There were lots of balloons but I thought to myself that can't be a balloon, that's not normal.
'We were sat on the floor level and it came from the higher seats, people were running and screaming. Everyone stopped and I turned to my friend and said 'we need to run'. Everyone was running and screaming and then when we got out it felt a bit more OK.
'I heard five or six bangs that sounded like gunshots. When we got outside people were outside, crying and on their phones.
A spokesman for Greater Manchester Police said: 'Emergency services responding to serious incident at Manchester Arena. Avoid the area.
A British Transport Police spokesman also said: 'We are aware of an incident at Manchester Arena.
'There are a number of confirmed fatalities and others injured.
We have officers at the scene and will provide further updates as soon as possible.'
Manchester's Victoria station, which backs onto the arena, has been evacuated and all trains cancelled.
UPDATE;
19 people have been confirmed dead and up to 50 concert goers injured.
Thoughts and prayers for Everyone in Manchester.