I guess we were all wrong as shortly after the Saturday party she disappeared with TTT for a while and we the viewers dint have an idea of where they were until the view went to TTT who was fast asleep.
Next the other 7 housemates were gisting by the table as they ate and drank. Bisola began to touch and rub Bally's head and chest, next thing they are kissing and then she ends up in Bally's bed and they obviously begin to do things before well Big Brother takes the camera focus away from them..
See a few videos that were shared on twitter below..
— ⚓️ Power Circles ⚓️ (@BabyTeddypender) March 12, 2017
— Ladies man (@Just_Figga) March 12, 2017
— Mr. Dabogs (@hamza_dabogi) March 12, 2017
— Lisandrosilver (@Olla61879881) March 12, 2017
Bisola is later seen smiling and saying they should avoid each other in the house henceforth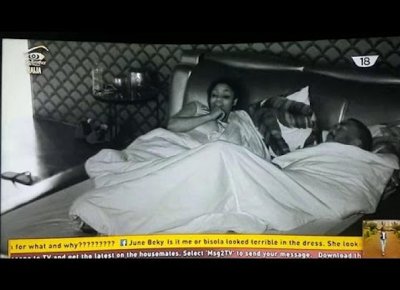 So people we dint see exactly what happened or if they indeed went all the way but something major surely went down!