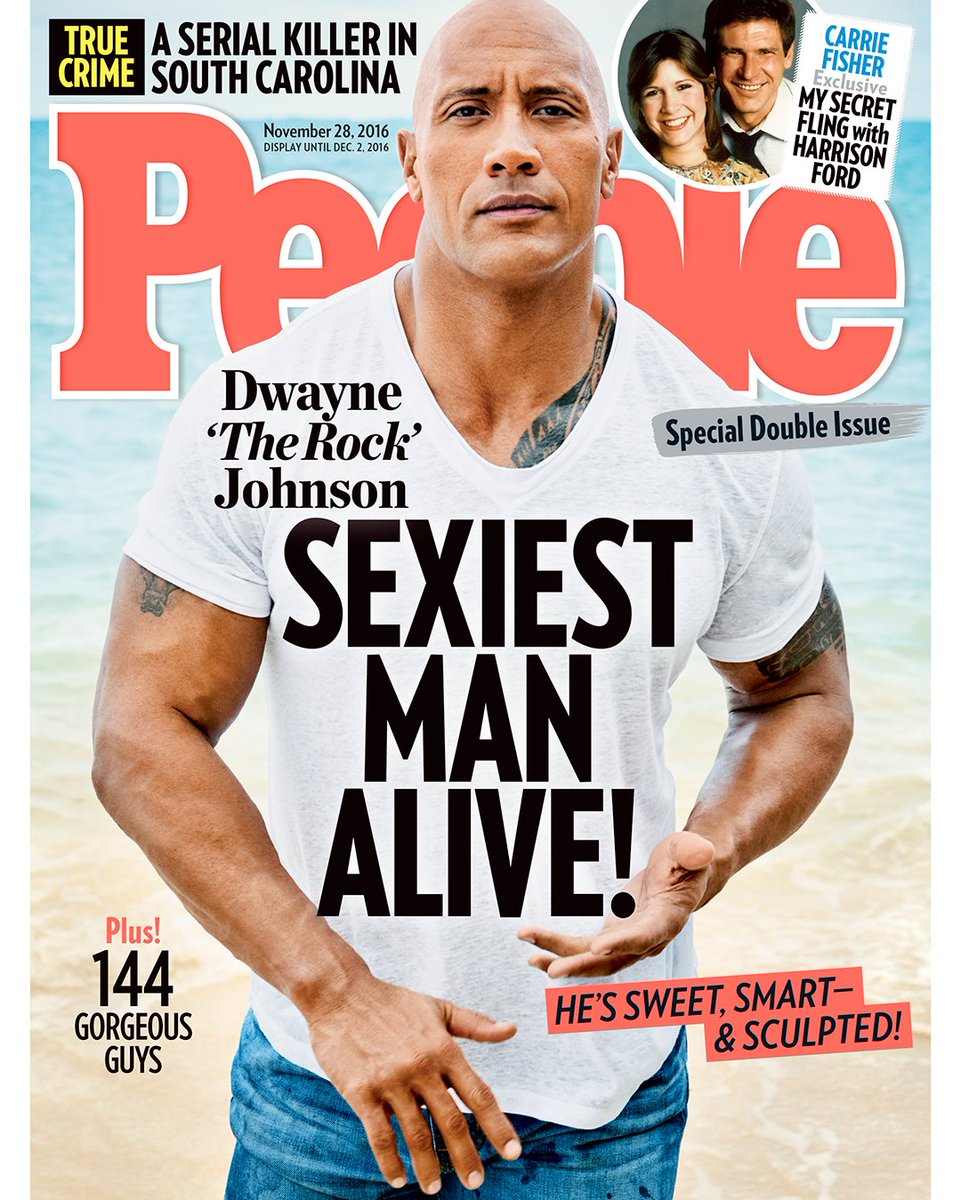 From Wrestling to becoming The world's highest-paid actor Dwayne "The Rock" Johnson is this year's People Magazine 's Sexiest Man Alive! Yass! 🙌
I love the Rock I think he's a wonderful athlete,actor and according to reports a sweet soul with a wonderful personality..
Speaking to People on his cover Dwayne said, 'That's awesome.' And then what went through my mind was just how cool and exciting it is," "And then I thought, 'Wow, we've pretty much reached the pinnacle.' I'm not quite too sure where we go from here. I've done it all, this is it."
At 6'5″ and 245 lbs., the Herculean star insists that becoming comfortable in his own skin "took a lot of time."
As a teen growing up in Hawaii, "I was doing a lot of things that I shouldn't have. I was getting arrested multiple times, but at the same time, always very respectful to my teachers and elders. I was unsure of who I was and who I wanted to be," he says.
More when you continue..
These days, he says it's his relationships with his longtime girlfriend Lauren Hashian, their 11-month old daughter Jasmine and his daughter Simone, 15, (with ex-wife, producer Dany Garcia) that help him stay grounded.
"I've made big sweeping changes in my career over the years, which have served me nicely," he says. "But I feel that the big sweeping changes that happened in my life, in my relationships, of being a dad, of being a partner, and the things that I was and the things that I am, has really lent itself to a confidence."
"We just have this awesome family that is truly non-traditional but so rooted in love. And that's such a cool thing," he says. "I'm very proud of it."
As for what his millions of fans find sexy about him now, Johnson has a few guesses.
"
This is the kind of question that gets me into trouble," he says.
"Ah, a sense of humor. And I think probably just not trying to be sexy and just being cool and confident in your movies. I think with a lot of my fans, I've gotten to a very, very cool place where there's a direct line between the man they know off-screen and the man they see on-screen."
He's also convinced that his grooming habits might have something to do with it. "It starts with the skin," he says with a laugh.
"We've only got one face. You've got to take care of it. So I exfoliate." 😊 Interesting!
Though excited and humbled by the crown, Johnson does expect to receive a little grief especially from his guy friends.
"It's coming now, I can just imagine how it's going to be," he says with a laugh. "But see, here's the thing, they give me grief, but they all wish. They all wish."

lol..