Aisha Buhari tried to say away from being stereotyped and called a first lady she refused to use that tag opting for wife of the president but she still has been taking in usual first lady duties.
Earlier in the year the APC camp said she dint have a twitter account and distanced themselves from this one but it soon got verified and Aisha recently used it to tweet updates about the case of the little boy who was mutilated by his stepmother #babyMusa so indeed it is the wife of the president's twitter account
Aisha who was earlier dragged into a bribery scandal yesterday was then cleared by former EFCC Boss to not be the same Aisha Buhari but another one hut I guess she still had some axe to grind with the very vocal Ekiti Governor Fayose who has been a thorn in the flesh of her husband's government.
Her tweets are nothing short of Horrific!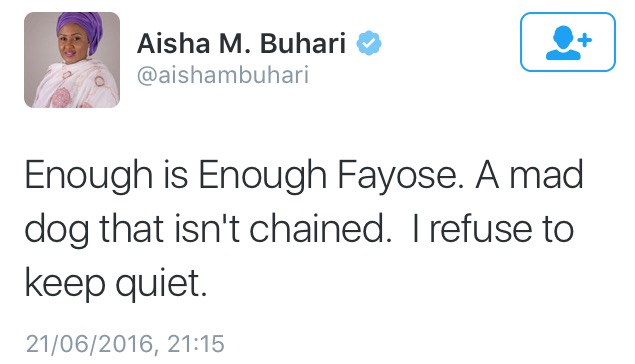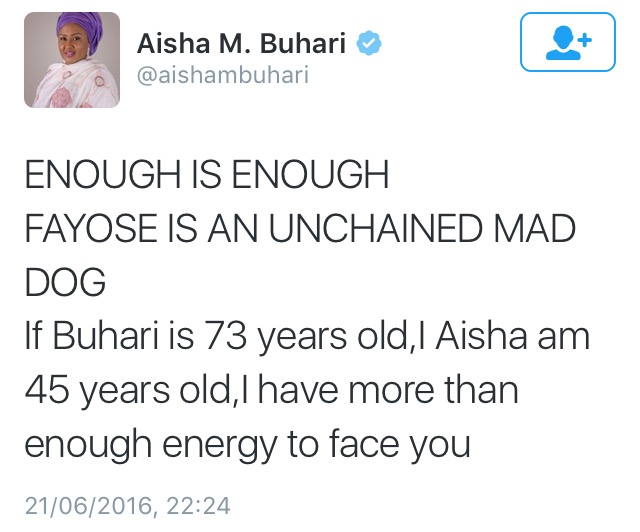 PDP Nigeria sent a reply her way...
I mean is that photoshop or did Aisha or her aides sit to write and send that?? really???!
Fayose Earlier this week had his personal account frozen and investigated by the EFCC which may point to this maybe actually being a witch-hunt or underlying power tussle between the president and the outspoken Governor from the opposition PDP!