Bauer Media the Organisation behind the two publications FHM and Zoo have announced their intention to discontinue both Magazines.
FHM mostly popular for its 100 sexiest women in the world and its counterpart Zoo are often graced by covers of scantily clad women and celebrities.
Branded as a "mainstream men's lifestyle magazine delivering innovative content to an audience of modern 20-something men"
FHM and Zoo are to close by the end of the year, marking the end of the lads' mag era that dominated UK magazine publishing in the late 90s and early 2000s.
Publisher Bauer Media described the closures, which are still subject to a consultation on the future of 20 jobs across the two titles, as a suspension, but the plan is to close both the print and digital versions of the magazines by 2016.
The closures reflect an overall decline in magazine sales, which has seen many titles close and others, such as Time Inc UK's NME, dropping their cover price and distributing free copies, as readers have moved online.
Bauer Media, which publishes both 'men's lifestyle' titles, said falling sales combined with an increasing preference for digital content instead had prompted the move.
The lads' mag market has been especially hard hit by new technology and changing habits due to the easy availability of nudity and pornography on the internet and the decline of the specific form of "lad culture" that helped make the titles so successful.
FHM and Zoo were the last of the big men's magazines of the past 20 years, famed for a brash tone and copious nudity.
Both titles have seen steep declines from their heyday. FHM's circulation fell to less than 67,000 for the first six months of this year, 20% less than in 2014, while Zoo was selling just over 24,000 copies, a fall of more than 12%.
That compares to the more than 700,000 copies FHM was selling in 2000, while Zoo launched in 2004 with a circulation of 200,000 before peaking in 2005 at more than 260,000.
Though both magazines were adding digital subscribers, numbers remained low, between them shifting not much more than 3,000 digital editions on average in the first six months of this year. Bauer claims the titles have a combined digital reach of 5 million people, but the publisher will have found it difficult to make as much money from ads online as it had done in print.
Bauer publisher Gareth Cherriman said: "I greatly appreciate [editor-in-chief] Damien McSorley's leadership and the dedication and effort from both teams.
"I would like to thank our advertisers and retailers who have supported the brands and I'm sure that everyone who has worked on FHM and Zoo over the years will be sorry to hear this news."
The websites of both Zoo and FHM issued their own statements expressing their regret at having to cease publication.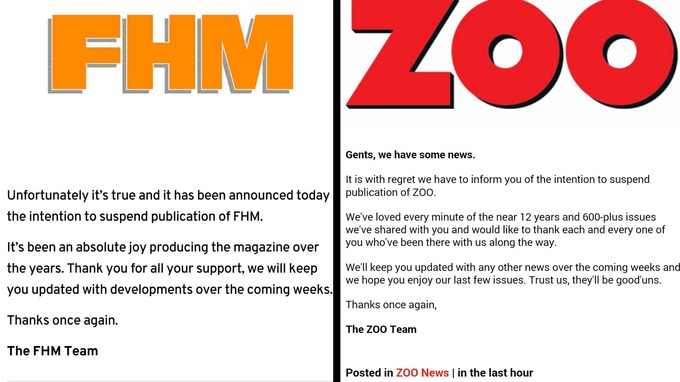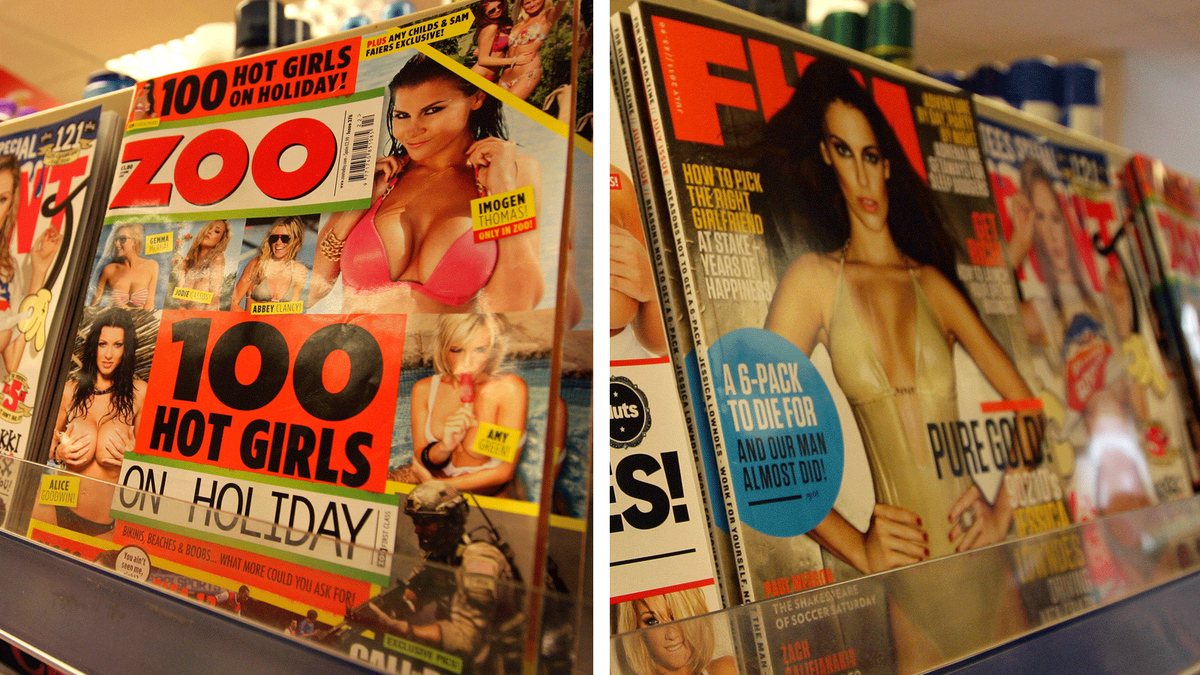 FHM was first published in 1985 as For Him Magazine, but changed its name and increased publication from a quarterly to a monthly print in 1994, with its popularity sparking numerous international editions.