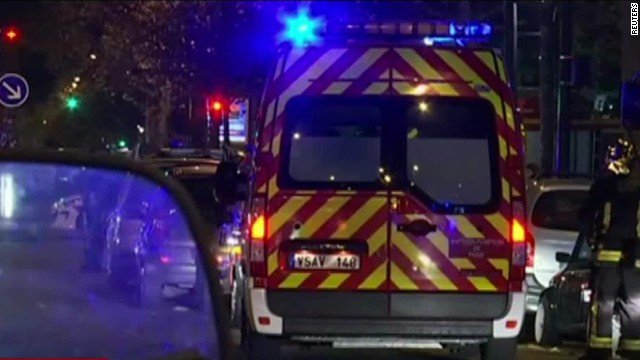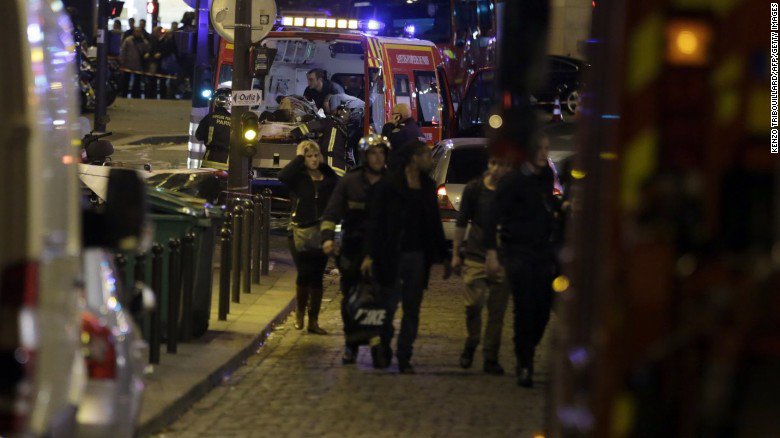 Its been a total night of horror andd Blood shed in the french City as scores and scores of people have been left dead in an apparent terrorist attack.Leading the
French President Francois Hollande to declare a state of emergency and shut all of its borders.
CNN reports - On a night when thousands of Paris residents and tourists were reveling and fans were enjoying a soccer match between France and world champion Germany, horror struck in an unprecedented manner. Terrorists some with AK-47s, some reportedly with bombs strapped to them attacked sites throughout the French capital and at the stadium where the soccer match was underway.
• At least 153 people were killed in the Paris and Saint-Denis shootings and bombings, French officials said. Among the victims, 112 were killed at the Bataclan concert venue, according to the Interior Ministry. Saint-Denis is home to the national stadium where the match was being played.
• CNN affiliate BFMTV reports that SWAT units stormed the Bataclan concert hall and that the siege is over. Two attackers were killed, a police union said. Police brought out at least 100 hostages from the concert hall, a CNN producer said; some appear to be wounded. President Francois Hollande Francois told reporters outside Bataclan that "terrorists capable of carrying out such atrocities must know that they will face a France that is determined and united."
• Hollande called the events "unprecedented terrorist attacks" and added, "This is a horror." In a tweet, he said, "Faced with terror, this is a nation that knows how to defend itself, how to mobilize its forces and once again, knows how to overcome the terrorists.
French radio reporter Julien Pearce was inside the Bataclan theater when gunmen entered. Two men dressed in black started shooting what he described as AK-47s, and after wounded people fell to the floor, the two gunmen shot them again, execution-style, he said. The two men didn't wear masks and didn't say anything. The gunfire lasted 10 to 15 minutes, sending the crowd inside the small concert hall into a screaming panic, said Pearce, who escaped. He said he saw 20 to 25 bodies lying on the floor.
One of the explosions at the Stade de France, home of the French national sports teams, outside Paris appears to be a suicide bombing, a Western intelligence source receiving direct intelligence from the scene told CNN's Deb Feyerick. A dismembered body, consistent with the aftermath of an explosion from that type of device, was found at the scene, the source said. Watch: Explosion heard at Paris soccer game
• People were inviting people off the streets into their apartments, reports Philip Crowther, Washington correspondent for France 24.
• Traffic on several subway lines has been interrupted following the attacks, the Paris police prefecture reported.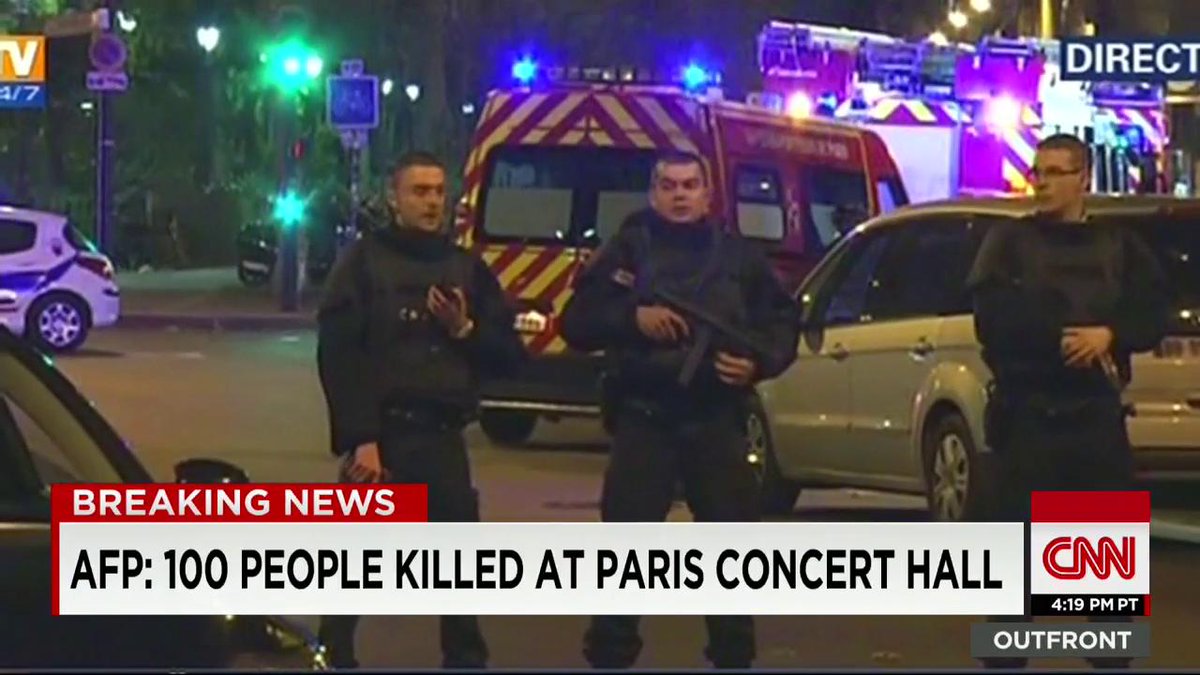 DailyMail also reports on the incident-
As many as 142 people have been killed, several wounded in a series of terror attacks in the heart of Paris tonight
Up to 112 were massacred in the Bataclan concert hall where terrorists were said to be holding people hostage
The terrorists shouted 'Allah Akbar' and 'this is for Syria' as they burst in and opened fire, witnesses have said
Police raided the theatre at around midnight, killed the three extremists inside and freed the remaining hostages
A series of coordinated terror attacks in the heart of Paris have left as many as 142 dead and paralysed the French capital with fear.
French police arrested one man who claimed to have been recruited by ISIS alongside three other extremists, it has been reported.
Around 112 were massacred at the Bataclan concert hall alone, where terrorists were holding around 100 people hostage, and another 11 at a restaurant shootout yesterday evening.
Police raided the theatre at around midnight, killed the three terrorists inside and freed the remaining hostages. Four policeman were killed in the operation.
Just five miles away, two suicide bombers blew themselves up outside the Stade de France sports stadium where the French football team was playing a friendly match against Germany. Five terrorists have been killed in the night of chaos in Paris.
French President Francoise Hollande declared a national state of emergency following what he called 'unprecedented terror attacks', shut its borders and deployed 1,500 extra troops to the capital.
Terrorists launched a total of six coordinated attacks at high profile sites across Paris:
Two suicide bomb attacks at a bar near the Stade de France led to President Hollande being evacuated from the stadium. He has since declared a national state of emergency.
Two terrorists with AK47s burst into the Bataclan concert hall, where rock band Eagles of Death Metal were performing. They sprayed bullets and threw grenades into thousands of people before they started slaughtering people one by one.
There was a shootout inside a restaurant on Rue Bichat, on Paris' 10th arrondissement, at around 9pm. At least 11 people were killed in the melee.
Gunfire and bomb blasts have also been reported at the Louvre art gallery, the Pompidou Centre and Les Halles shopping centre.
Witnesses have been telling of the horror which unfolded inside the Bataclan theatre, where AK47 wielding terrorists shouted 'Allah Akbar' as they burst in and opened fire into a crowd of thousands.
'It looked like a battlefield, there was blood everywhere, there were bodies everywhere,' Marc Coupris, 57, told the Guardian.
He added: 'I was at the far side of the hall when shooting began. There seemed to be at least two gunmen. They shot from the balcony.'
They shot at 'very young' people in the violent attack which lasted around 15 minutes, said Julien Pearce, a journalist at Europe 1. The gunmen, who witnesses have described as young men in theirs 20s, reloaded three or four times as they gunned down innocent people at random.
'Three men with Kalashnikovs and wearing flak jackets burst in in the middle of the concert,' another man, a man named Hervé, told the Telegraph after escaping through an emergency exit.
He said the men were not wearing masks, adding: 'They just started spraying bullets. I saw a girl hit right in front of me. There must have been quite a few dead.'
HOW AN 'UNPRECEDENTED' NIGHT OF TERROR UNFOLDED IN PARIS
8.30pm (GMT): Two explosions - which turned out to be suicide bomb attacks - were heard outside the Stade de France where Hollande was watching France play Germany.
9.30pm: Reports of a shooting at the Petit Cambodge restaurant five miles away.
10pm: French police confirmed at least 18 people had been killed in terror attacks. There were reports of a shooting at Bataclan concert hall.
10.10pm: Death toll rose to 26 people, 15 of whom were killed at the Bataclan where a hostage crisis was developing. Between 60 and 100 people were being held hostage.
11pm: Hollande declares national state of emergency and shuts the country's borders after death toll rose to 42.
11.20pm: Gunshots and explosions heard at the Bataclan.
Midnight: Police storm the building, kill three terrorists and rescue hostages. It emerged that more than 100 people were killed inside the theatre.
1am: Paris city hall spokesman said the latest death toll was at least 140 people, and confirmed that shots were fired in at least two restaurants. A witness of the attack at the theatre described a scene which 'looked like a battlefield'.
Our thoughts and Prayers are with everyone out there and the City of Paris !
Follow a more comprehensive coverage over @ Mailonline!