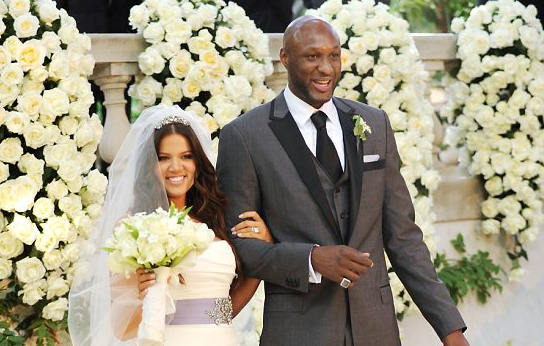 The Kardashians have had afew tough days as one of their own Khloe had to be by ex husband Lamar's side to nurse him back to life after his overdose tragedy.
Well that title my well now be reversed back to HUSBAND Khloe has decided to give their love another chance since Lamar has now swore never to do drugs ever again!.
The 31 year old reality star and her beau reportedly asked their lawyers to discard the papers they earlier signed and trash the divorce proceedings!
Waohhh isnt that a Lovely happy ending? Happy for them two. #Love wins!
So wasnt surprising when Khloe dint show for her sister Kim's birthday.
Kanye west threw a surprise party for renting out a whole theathre at the Cinepolis Luxury Cinemas for her to see a movie for her birthday.
"My husband never ceases the amaze me! He rented out the entire movie theater to screen the new Steve Jobs movie (which isn't even out yet! It's sooooo good BTW) and had all of my family & close friends come dressed up as their best pregnant Kim look (fake baby bumps provided on arrival!) Not sure if that was to make me feel less huge or just a fun cool theme but I loved it & had the best time ever, feeling so very comfortable eating churros with a bunch of pregnant women! Just what I needed, the perfect chill yummy food birthday!!!!"
Kendall,Kylie Accompanied by Tyga,Mum Kris accompanied by toyboy Corey Gamble,kourtney and err former step dad now Caityln were all out to celebrate with Kim.
More photos when you continue..
Happy Belated birthday to Kim!