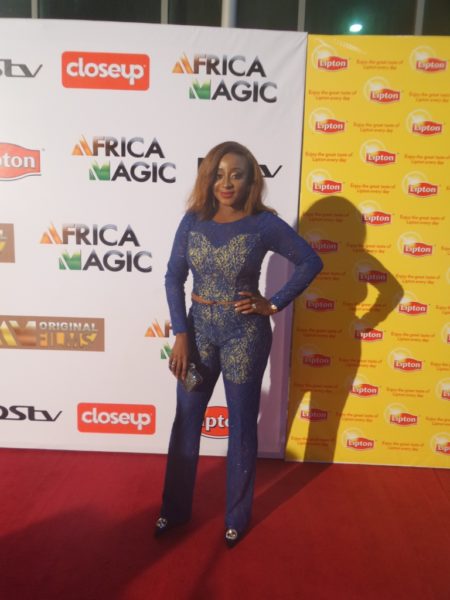 I guess our celebrities should be used to this now you put anything out there it WILL be criticised! some will love it and some wouldnt! The actress stepped out in this lacy blue jumpsuit first for the Africa Magic original movies event and then for Rukky Sanda's DARK Movie premiere over the weekend and people did not like her outfit which they said on her Instagram page she then came back to clap at them see what she shared below..
"@oluchionuigbo you're a star absolutely loved my facebeat @marykoko you rock I loved my outfit.... I will continue to support and encourage talent. It really is sad that we have so many angry and bitter people around who thanks to social media have found release. It's so sad. In all a big shout out to all hardworking and positive people out there who wake up every morning with a purpose and a very positive mindset GOD will indeed bless the works of your hands but wait a minute! Cyber bullying and negativity might fetch money with proper planning and strategizing. If you fall in this category, source for sponsors and earn a living. #greatsaturdayadvisedontyouthink. Anyway off I go to make today count. Have a splendid weekend guys"
I dont think she should trivalise Cyber Bullying people face a lot more worse from being cyber bullied .People dint like your outfit Ini am sure you can live with that!