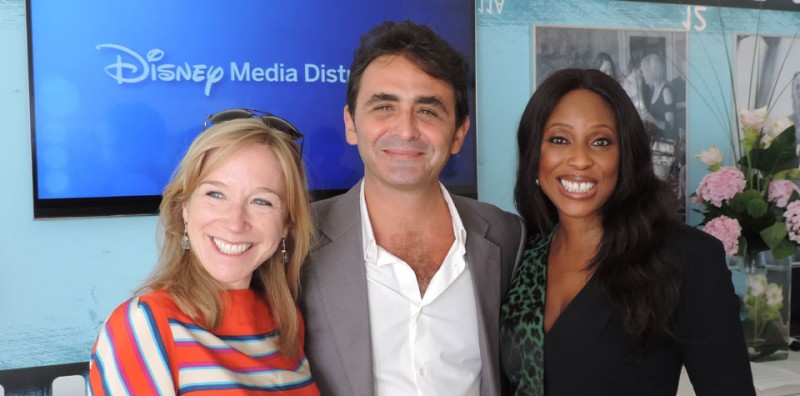 Disney Media Distribution EMEA has announced plans for a local production of the iconic hit series "Desperate Housewives," bringing a new take on the series' darkly comedic view of suburbia to African audiences. The series, to be filmed in Nigeria and known as "Desperate Housewives Africa" and will be co-produced by EbonyLife TV and Disney,to begin airing from Summer 2014.
The original "Desperate Housewives" won both the 2005 and 2006 Golden Globe Awards for Best Television Series – Musical or Comedy, and was created by Marc Cherry and produced by ABC Studios. The series is broadcast in more than 200 territories around the world, where it has been one of the most popular U.S. TV shows in recent history with its eighth and final series concluding in 2012.
Giovanni Mastrangelo, General Manager, Disney Media Distribution, Emerging Markets said: "Co-producing "Desperate Housewives Africa" with EbonyLife TV offers the opportunity to engage African audiences through locally relevant and entertaining storytelling. It's terrific news that the local version of this hit series, starring a pan-African cast, will bring to life the universal stories and characters created by ABC Studios."
Mo Abudu, CEO & Executive Chairman, EbonyLife TV, added: "In "Desperate Housewives" we find one of the most amazing formats for TV and we are extremely excited to be co-producing it with Disney Media Distribution EMEA. On our part, and in line with our mission which is to create original, homegrown and premium content with an African soul, we will work to ensure parity with the original storyline and production values that have characterised the global series, without compromising on that very important African essence. This is very crucial to our channel as it definitely is to The Walt Disney Company."
The Nigerian series will feature an African cast of new emerging and established talents and will be filmed on location in Lagos, Nigeria, at Adiva Estates, a gated development along the Lekki Expressway, developed by ARM. This location has been identified as Africa's own "Wisteria Lane".
Production will closely follow the format and storylines of the original US version, with a uniquely Nigerian flavour. And to ensure the series retains its international appeal but with an African soul, EbonyLife TV will be working with DO.ii designs and Agatha Interiors on furniture design for the Desperate Housewives Africa sets. On dressing of talent, EbonyLife TV will be partnering with stylist Veronica of Vane-Style and major Nigerian designers to include Bridget Awosika, Ella & Gabby, Jewel By Lisa, Kareema Mak, Lanre Da Silva, Meena, Me-Li, Needle Point, Odio Mimonet, Phunkafrique, Toju Foyeh, etcetera.
Talks are also ongoing with a number of potential sponsors to take advantage of this once in a lifetime opportunity that will undoubtedly deliver increased brand awareness, massive brand building and huge propensity to purchase.
EbonyLifeTV the currently airs in 44 African countries across the continent on the DStv platform.
to audiences across the globe, receiving rave reviews from key international media such as the Washington Post, ABC News, BBC, Yahoo News, amongst several others.